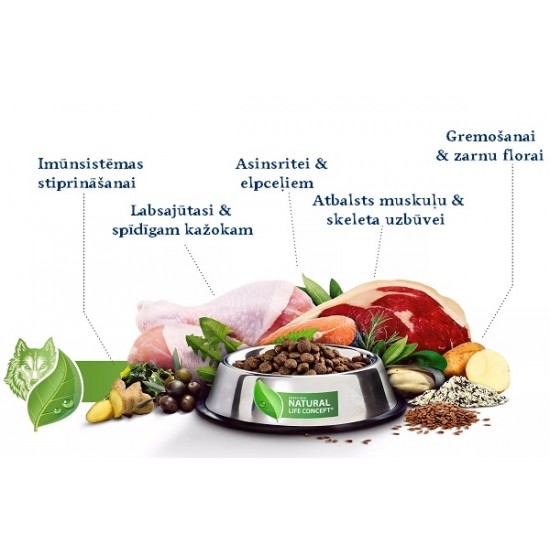 New

Happy Dog fit & vital Mini Senior
✔ Complete dry food for senior dogs of all small breeds.
✔ Balanced protein diversity.
✔ Small granules.
✔ Support for the musculoskeletal system.
✔ Made in Germany.
Happy Dog fit & vital Mini Senior

Easily digestible and balanced complete dry food for small breed dogs in the 3rd stage of life.
Need your senior four-legged friend's meal to be natural and balanced with an extra portion of health? Then Happy Dog fit & vital Mini Senior is the most suitable dry food. Drawing on nature's example, five different protein ingredients from salmon, seafood, eggs, lamb and poultry provide a healthy variety of protein.
Salmon: rich in essential omega-3 and omega-6 fatty acids, therefore ideal for skin and coat
Marine fish: provides the senior dog with a variety of vitamins
Eggs: biologically important protein
Lamb: contains many valuable minerals
Poultry: Rich in nutrients and provides essential micronutrients
Fit & vital until puppy age
Happy Dog fit & vital Mini Senior is perfectly adapted to the needs of older dogs, as the metabolism of the organs changes with age. Tasty and easily digestible food for senior dogs with optimal protein, phosphorus and sodium content supports organ function. First of all, the heart and kidneys are relieved. The wheat-free recipe is also enriched with revitalizing L-carnitine, and the added New Zealand clam makes for more exercise pleasure. Vitamin C supports the body's defenses. In this way, vitality and joy of life are possible until the old age of the dog, and you can still spend many beautiful moments with your four-legged friend.
Composition
Composition

Rice, maize, cartilage, barley, animal protein* (of which poultry 4%, lamb 4%), oils and fats, fish meal (5%, of which 50% salmon meal), hydrolysed protein, beet molasses pulp (desugared )*, apple cores*, potassium chloride, yeast*, sodium chloride, seaweed*, linseed 0.15%, dried whole egg 0.1%, chicory powder, milk thistle, mussel meat* 0.02%, yucca schidigera* (palm lily), yeast* (extracted), artichoke, dandelion, ginger 0.014%, birch leaves, nettles, chamomile, coriander, rosemary, sage, licorice root, thyme, total herb content: 0.14%. )* dried.

Ingredients / kg:

Protein 23.5%, fat 11.0%, ash 6.0%, fiber 2.0%, calcium 0.9%, phosphorus 0.65%, sodium 0.3%, Omega-6 fatty acids 2.5% , Omega-3 fatty acids 0.3%.

Additives

Vitamins / kg: A (3aE672a) 15000 I.E., D3 (3a671) 850 I.E., E (as 3a700) 115mg, C (as 3a312) 30mg, L-carnitine (3a910) 200mg. Trace elements / kg: iron (as 3b103) 65mg, copper (as 3b405) 13mg, zinc (as 3b603, 3b606) 120mg, manganese (as 3b502) 28mg, iodine (as 3b202) 2.5mg, selenium (as 3b801) 0, 15mg; Technological feed additives per kg: antioxidant, strong tocopherol-containing extracts of natural origin.