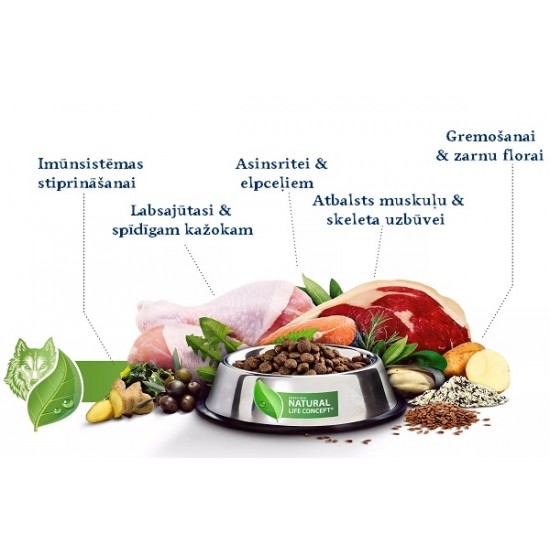 New

Happy Dog fit & vital Mini Light
✔ Complete dry food for dogs of all small breeds that are slightly overweight or for weight maintenance.
✔ Balanced protein diversity.
✔ Reduced fat content.
✔ High fiber content.
✔ Made in Germany.
Happy Dog fit & vital Mini Light
Complete dry food for adult dogs of all small breeds whose weight does not exceed 10 kg. Slightly overweight or for weight maintenance. Food with low fat content.
Close to nature and balanced with an extra dose of health, is that how you want to care for your little friend? Then the Happy Dog fit & vital Mini Light is exactly what you are looking for. In this recipe, five different protein ingredients provide a healthy variety of protein: salmon, seafood, eggs, lamb, and poultry. Salmon contains essential omega-3 and omega-6 fatty acids that improve skin and coat. The easily digestible sea fish provides your little dog's body with many vitamins. Egg provides biologically valuable proteins, while lamb guarantees many important minerals. Small breed dog food is supplemented with nutrient-rich poultry meat, which serves as a supplier of essential micronutrients
Light dog food for a good figure
Happy Dog fit & vital Mini Light is perfectly adapted to the needs of small breeds of dogs weighing up to 10 kg, which require a low-fat diet to maintain good body composition and maintain weight, for example after dieting. The delicious, gluten-free complete food with only 7.5% fat and L-carnitine for metabolism is based on the unique Happy Dog Natural Life Concept®. Thanks to the high fiber content, the dry food for small dogs is particularly filling.
Composition
Composition

Animal meat protein* (poultry 16%, lamb 4%), corn meal, corn, rice, barley, lignocellulose 5.8%, fish meal 5%, of which 50% salmon meal, cartilage, hydrolyzed proteins, beet molasses pulp ( desugared), oils and fats, apple pulp*, potassium chloride, yeast*, sodium chloride, seaweed*, linseed 0.16%, dried whole egg 0.1%, milk thistle, mussel meat* 0.02%, yucca schidigera *, yeast * (extracted), artichoke, dandelion, ginger 0.015%, birch leaves, nettles, chamomile, coriander, rosemary, sage, licorice root, thyme, total herb content: 0.15%. )* dried.

Ingredients / kg:

Protein 26.0%, fat 7.5%, ash 7.0%, fiber 5.5%, calcium 1.45%, phosphorus 1.0%, sodium 0.35%, Omega-6 fatty acids 1.7% , Omega-3 fatty acids 0.2%.

Additives

Vitamins / kg: A (3aE672a) 17000 I.E., D3 (3a671) 900 I.E., L-carnitine (3a910) 500mg. Trace elements / kg: iron (as 3b103) 50mg, copper (as 3b405) 10mg, zinc (as 3b603, 3b606) 100mg, manganese (as 3b502) 25mg, iodine (as 3b202) 2mg, selenium (as 3b801) 0.1mg; Technological feed additives per kg: antioxidant, strong tocopherol-containing extracts of natural origin.