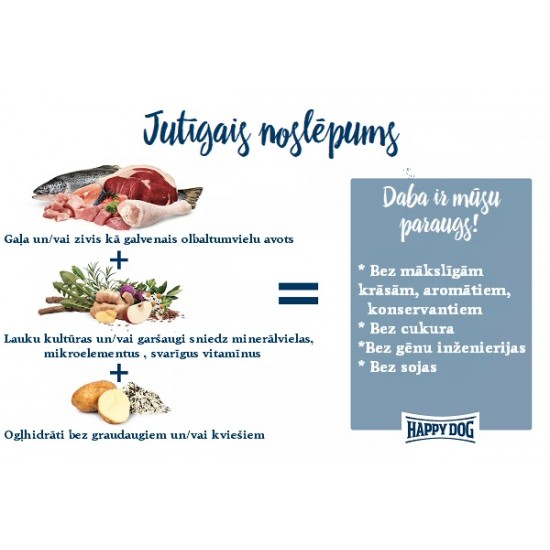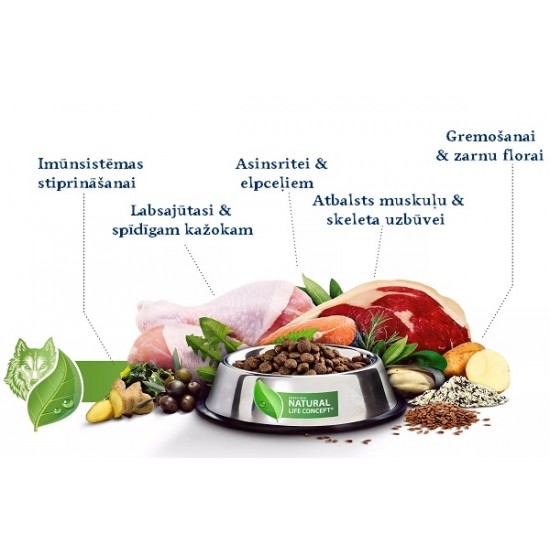 New



Happy Dog Sensible Mini Puppy
✔ Complete food for puppies of all small dog breeds in the 1st year of life.
✔ Also suitable for feeding sensitive dogs.
✔ A recipe without poultry and wheat.
✔ Small size granules.
✔ Easy to digest.
✔ Made in Germany.
Happy Dog Sensible Mini Puppy
Complete dry food for puppies and juniors of all small dog breeds from 1 to 12 months of age.
In order to support the harmonious growth of small breed puppies and juniors, a balanced diet is especially important in the first months of life. Puppy food should have an optimal ratio of fat and protein. Happy Dog Sensible Mini Puppy offers your little puppy all the important ingredients in sufficient quantities. The complete feed will provide the puppy with everything it needs in the first months of life.
Easily digestible feed with lamb and rice
Well-tolerated lamb and easy-to-digest rice will not burden your little puppy's digestive tract. The easily digestible dry food does not contain poultry meat and is ideal for small breed dogs with sensitive digestive systems. Adding New Zealand mussel extract to the food supports the development of your puppy's bones, tendons, ligaments and joints.
What age is Happy Dog Sensible Mini Puppy Lamb & Rice suitable for?
Ideally, you should feed your puppy Happy Dog Sensible Mini Puppy from 4 weeks of age up to and including 12 months. Small dog breeds up to 10 kg (adult dog weight) mature faster and grow more evenly than large breeds. That's why we offer Happy Dog Mini Puppy products, which are especially suitable for small breed puppies and juniors. From the age of 13 months, you can slowly switch to Mini Adult food. After Sensible Mini Puppy, we recommend Happy Dog Mini New Zealand.
Complete dry food for puppies and juniors of all small breeds up to 10 kg (weight of an adult dog). For feeding from the 4th week of life to the 12th month inclusive.
Composition
Composition

Lamb protein* 19.5%, rice 19%, maize meal, cartilage, oils and fats, maize, rice protein* 5%, hydrolysed protein, beet molasses pulp* (desugared), cellulose, apple pulp*, potassium chloride, yeast*, sodium chloride, seaweed*, linseed, plantain husks, yucca Schidigera* (palm lily), mussel meat* 0.04%, milk thistle, yeast* (extracted), artichoke, dandelion, ginger, birch leaves, nettles, chamomile, coriander, rosemary, sage, licorice root, thyme, total herb content 0.15%. )* dried.

Ingredients / kg:

Protein 30.0%, fat 16.0%, ash 8.5%, fiber 2.5%, calcium 1.45%, phosphorus 1.05%, sodium 0.5%, Omega-6 fatty acids 2.0% , Omega-3 fatty acids 0.2%.

Additives

Vitamins / kg: A (3aE672a) 17000 I.E., D3 (3a671) 900 I.E., E (as 3a700) 120mg, C (as 3a312) 30mg, Trace elements / kg: iron (as 3b103) 65mg, copper (as 3b405) 14mg, zinc (as 3b603, 3b606) 125mg, manganese (as 3b502) 30mg, iodine (calcium iodate, anhydrous 3b202) 2.5mg, selenium (sodium selenite 3b801) 0.2mg; Amino acids/kg: L-tryptophan (3c440) 1000mg. Technological feed additives/kg: antioxidant, strong tocopherol-containing extracts of natural origin.